Election Result
Election Result
13 December 2019 (by admin)
Yesterday KS2 children at St Mary's took part in an election.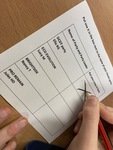 Yesterday KS2 children at St Mary's took part in an election. Year 6 pupils formed four political parties, each with their own leader. Each party used real party manifesto commitments to come up with their own priorities. These were then presented to the school earlier in the week. Yesterday on Election Day, a polling station was established in the school hall (see Tweets for images). The children voted and as Returning Officer for the constituency of St Mary's School, I can now reveal the results…
In fourth place with 17 votes, Pro Remain. In third place with 18 votes, the Brightside Party. In Second Place with 25 votes, Eco Evolution. Which means DCDT (Don't Chop Down Trees) Party, with 66 votes has won the St Mary's 2019 election.
The DCDT Party appealed to voters as a result of its strong environmental policies. Congratulations to the party and its leader, Ella.
The children have had an opportunity to discuss real national issues and be involved in a democratic exercise which mirrors the real election happening across the country on the same day. Democracy is a British Value, which as a school, we promote by giving children opportunities debate, choose and make decisions.
Mr Hitchcock
Returning Officer
Share this: