Healthy Eating & School MEALS
We encourage all our children to lead healthy lifestyles. Healthy eating significantly contributes to our aim. All children have access to drinking water in every classroom. Foundation Stage and Key Stage 1 have fresh fruit at morning break provided by the local government fruit scheme. Older children bring a healthy snack from home for morning break. All our school dinners are cooked on site using fresh vegetables and herbs, some of which are sourced from our own school kitchen garden, tended by children in school. In addition, we provide information to parents on healthy contents of packed lunches. We support 'Meat Free Monday' where only vegetarian food is served.
Parents will find the NHS Healthier Families website a good source of information to support making healthy choices.
We are so proud of the quality of our school dinners that we invite family members to share a school dinner with their children. We call this Families to Lunch. We will ensure that every child will have the opportunity to share at least one school dinnertime with an adult from their family whilst at St Mary's.
Previous offerings to parental visitors:
Olive and bread sticks
Lasagne / Meet balls with flat breads
Fresh berry compote with cream and short bread
Poppadums with yogurt mint dip and mango chutney
Chicken or vegetable curry or tarragon pork filo rolls, with boiled rice and salad
Chocolate and courgette muffins or orange smoothies or fresh fruit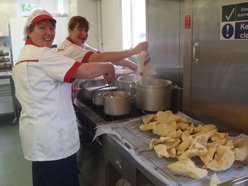 We always welcome feedback. Here are a selection of parental views from comment cards left on the tables:
'Better than some of the restaurants I have been in - very good standard of food' - local chef, Table 10 restaurant!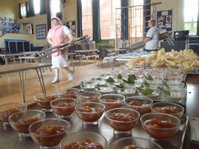 'I really enjoyed my lunch at the school today! It was good to see that some of the salad had been home grown. This was a great opportunity to see how well the children relate to the staff. The effort from the staff was much appreciated. Thank you.'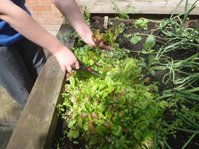 'Absolutely fabulous. Congratulations to all the team. A very smooth operation . So glad my son has school dinners, what a difference to my own experiences as a child. I did miss the custard with skin on my pudding though!!'
'Absolutely fantastic food. Mrs. D'Silva and her team are legends - thank you for feeding our children so well.'
'We had lovely lunch, midday staff were lovely and helpful'
'The cake was a great way of getting the children to eat vegetables'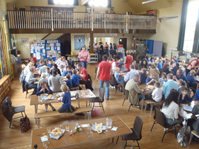 'Today I had the pleasure of eating with the children.... Please Sir can I have some more!'