When shall we three meet again?
When shall we three meet again?
8 October 2021 (by admin)
Young Shakespeare - What an amazing morning for Years 5 & 6 children who, with the help of these travelling thespians, acted out and retold the story of Macbeth.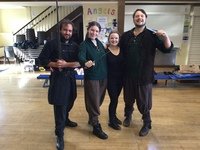 Shakespeare can be demanding for children to understand well. By retelling the story through drama, the bard's words come to life, helping the children to understand the rich language and plot. They will have also had a lot of fun dressing up and experiencing the delivery of Macbeth by trained actors.
Share this: