Super Heroes of Sale Visit St Mary's
Super Heroes of Sale Visit St Mary's
1 July 2020 (by admin)
Super Heroes of Sale Visit St Mary's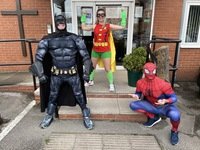 Chances are that Captain America, Spiderman, Batman, Superman and Mr Incredible have been running down your road over the last few weeks.
Their aim is to spread a little happiness for families and children facing lockdown and as far as everyone is concerned it has been mission accomplished!
Members of the public have insisted on making donations and more than £1,000 has already been raised for Ronald McDonald House Charities. Visit www.justgiving.com/fundraising/superheroesofsale2020.